A Vietnam War veteran, with chronic pain, concentration and memory issues, ongoing insomnia, uncontrolled anger and difficulty connecting with people, walked into an office in Bethesda Maryland. In his hand was a dog-eared book bristling with Post-It notes. And in his eyes, hope.
A 10 year-old girl walked into the same office, six months after a blow to the back of her head during a soccer game changed her life. She went from being a happy, bright and active youngster to one unable to taste, walk, read, sleep or think clearly. Her anxiety attacks and relentless headaches were nearly incapacitating, but doctors were unable to offer more than the need to "wait it out". After treatments described in the same book, she is now symptom free. According to her mother, "The technology presented in this book abruptly ended our six months of misery and has turned my daughter's life around."
What do our veteran and young soccer player have in common with thousands of others whose lives were given back to them after being told nothing could be done for their fatigue, insomnia, confusion, and panic attacks? The ones who had been sent home with heavy duty drugs for their constant headaches, depression, explosive anger and chronic pain. High functioning individuals who could no longer hold down jobs, go to school or even tolerate the light of a sunny day or once-loved music and other sounds.
What do they have in common? They found their way to the office of Mary Lee Esty, Ph.D, and the treatment resulting from her many years of research and experience. And now you have an opportunity to find your own answers to issues that have been affecting your quality of life or those of a loved one. It's all right here…
Conquering Concussion
Healing TBI Symptoms With Neurofeedback and Without Drugs
By Mary Lee Esty, Ph.D & C.M. Shifflett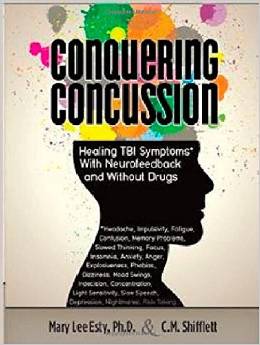 To order your copy, CLICK HERE!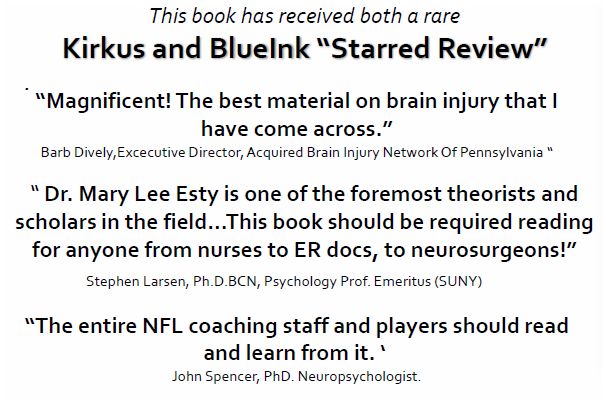 Conquering Concussion has received rave reviews, including the highly coveted "Starred Review" from both Kirkus Reviews and Blue Ink.
From Kirkus Reviews…

Powerful advocacy for an emerging therapy… public ignorance and medical dogma plague the prevention, diagnosis and treatment of traumatic brain injuries (used synonymously with concussion). The authors hook readers by opening with stories about concussion's impact on famous figures, including Henry VIII, Mary Lincoln, Howard Hughes and Elvis Presley. This eases the transition to Esty's client histories (using pseudonyms), which are woven throughout chapters that cover what happens physiologically during and after TBI and its manifold physical, psychological, emotional and social consequences. Their experiences personalize discussions about the frequency of misdiagnoses, overreliance on pharmaceuticals, the efficacy of neurofeedback to treat TBI and its role in conjunction with other therapies. Esty and Shifflett catalog the abundant chances for brain injury in modern life, particularly in sports, and dispel popular myths that lead to downplaying risks and tolerating repeated exposures. Read more…
From Blue Ink Review…
Victims of traumatic brain injury often grapple with crippling life challenges years after their initial trauma. The authors of Conquering Concussion believe that many of these patients have a strong chance of healing through effective biofeedback therapy, an avenue they fully explore in this informative and highly engaging resource book…thorough yet highly readable — rich with explanatory and well-documented details and illustrations that enlighten without overwhelming. It includes a wealth of powerful case histories of Esty's successes as well as easily understood chapters on all aspects of what happens in brain injury, how it is diagnosed, long-term consequences, and what can help toward its repair. Read more…
Authors hold their breath while literary reviewers do their evaluations but for Dr. Mary Lee Esty there are other opinions that hold far more weight. Colleagues and peers quickly offered theirs…
"This book is an unbelievable resource. The history chapter is so interesting, with details of injuries from Henry the 8th, to Elvis. Their description chapters of concussion and symptoms and chapter on Cases creates a one stop resource about all aspects regarding concussion." Gillian Hotz PhD, Director KiDZ Neuroscience Center, Director Concussion Program. University of Miami Miller School of Medicine

"Gripping! So interesting it feels like a novel. I'm learning more about concussion from your book than I did in medical school. Reading the eloquent section "When More is Needed" made me wish there were a way to engrave this information on the brains of care providers who don't really provide care. It isn't often that a book on such a serious topic is so well-written for the average reader, and I believe that it will raise the awareness of how common brain damage is. We just didn't know what to look for or what to do about it. Until now." Devin Starlanyl, Author, Healing through Trigger Point Therapy: A Guide to Fibromyalgia, Myofascial Pain and Dysfunction

"Conventional medicine is extremely effective handling the acute medical care, TBI included. However, once the acute phase is over and the hard work of rehabilitation and dealing the chronic aspects of post-concussion syndrome begins, our medical system fails miserably. Dr. Esty's book thoroughly explains, at a very readable level, what happens to the brain when injured. More importantly, it explores non-pharmaceutical therapies that are not just a reasonable option; they are a necessity to battle the growing epidemic we face today. This book should be the primer for anyone wanting to understand the issues surrounding concussion and what could be done if our society really took TBI as seriously as it should." Michael Lewis, MD, MPH, MBA, FACPM Colonel (Retired), U.S. Army Medical Corps
To order your copy, CLICK HERE!
But Conquering Concussion wasn't written with literary success in mind and only partially for the medical and healthcare community. In the foreword, Dr. Esty writes, "This book began as a simple informational brochure for my clients with concussions." She went on to say, "Fueling my resolve to finish this ever expanding project was the frustration I had experienced in early years as clients shared their experiences and looked to me for explanations. As I learned more about the consequences of concussion, it became clear that a lack of understanding was creating extra barriers for those struggling. I became determined to share what I have learned from my courageous clients in the hope of making life after concussion easier for others."
That is exactly what she has done. One reader said, "I kept seeing myself in this book. Think about the times you have fallen or otherwise hit your head, or have been involved in whiplash-creating events, and maybe you will see yourself too."
Who is Conquering Concussion Written For?
It is strongly believed that the estimated 22 per day suicide rate among current and former military members is significantly below the actual numbers. It may very well be three to four times that number. Dr. Esty is now working with the Wounded Warrior Program and having remarkable success treating PTSD and other effects of trauma — physical, emotional and sexual. This book is written for them.
The debilitating symptoms of the young soccer player mentioned above appeared after a particular blow to her head, but it is probable that this was simply the final straw and the result of repetitive injury to the brain. Much like the CTE (chronic traumatic encephalopathy) that we are hearing more and more about in the NFL and other sports. Because of the research and therapies described in this book, this youngster is back to living a normal, healthy life while we read of depression, drug abuse, physical and mental decline and even suicide in professional athletes. This book is written for anyone who steps on a playing field or court. For those who hurtle down ski slopes, strap themselves behind the wheel at NASCAR events or train to become the Ultimate Fighting Champion.
Injuries to the brain during athletic endeavors do not wait until we're adults. The truth is that concussions and its effects happen at any age — on the playground as well as the ones we watch on Monday Night Football. This book is written for parents to help them understand the seriousness of even seemingly slight head trauma and make choices that could very well change their children's lives.
And we don't have to be soldiers or involved in sports. Concussion and TBI is part of everyday life. From motor vehicle accidents, even those written off as mere fender benders, to falls from ladders, slips on icy sidewalks or wet bathroom floors to tripping over cords and curbs. The list is endless.
Who is Conquering Concussion written for?
It's written for you. For anyone with the courage to climb out of bed in the morning and live a full and active life.
If you or someone you know suffers from the effects of concussion, whether it was ever diagnosed or not, this book was written for you. It is the authors' sincere hope that you find understanding within its pages and that you are able to join the ranks of those walking out of the office in Bethesda, or one like it, and saying, as many others have…
"I got my life back!"
Order Your Copy of Conquering Concussion Today!